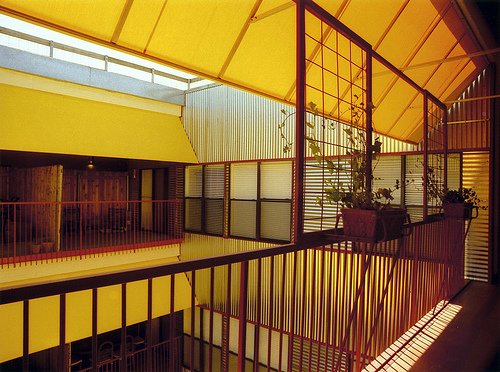 About Larcade Larcade
Architecture is about space and light. Light colors life. All forms of life, natural or man-made, take their shape and surface identity through color. It is also about accessibility and comfort; all individuals appear to have special needs, some more than others.
Our practice is about space, light, and color. We serve our clients by simply choosing paint colors for their existing homes, remodeling, or designing a new building with color and texture, an integral part of shape modeled by light.
John came to color through architecture, a love of Mexico, and his innate joy of life. Margaret came to color as a little girl looking at art books on cold Michigan days, visiting exhibits at the nearby Cranbrook Academy of Art, and traveling to Mexico as a teen. Both have had a lifelong involvement in the visual and performing arts as part of the audience, which has excited and honed their visual skills of color and shape relationships.
It all seems to be about relationships, in the arts, and one's personal life.
Their studio is in the River Road Neighborhood of San Antonio, Texas, and San Miguel de Allende, Mexico.
John Larcade
John Larcade has practiced architecture in San Antonio for over 35 years, with a commitment to contemporary design, and before that, in New York City.   He also worked in Colombia, South America, as a Peace Corps volunteer designing and building rural schools, where he became fluent in Spanish and began a love for life "south of the border."
John received his Bachelor of Architecture from the University of Texas at Austin and his Master's degree from Columbia University. He returned to Texas to teach design and structures at the University of Houston for two years.   For the last 32 years, he has been a principal in Lance, Larcade, and Bechtol, Architects and Planning Consultant with long-time friends Mike Lance and Ron Bechtol.   He also served on the architectural design faculty of San Antonio College and the University of Texas at San Antonio for many years. Many of the projects shown on this website were completed by Lance, Larcade, and Bechtol, Architects.
This new venture, a partnership with Margaret to work on architectural projects, interior design, and color, brings together their love of contemporary design and the traditions of Mexico, South America, and the Mediterranean countries. John's knowledge of architectural history and indigenous building methods has always informed his work and attitudes about creating energy-efficient and sustainable buildings. He has designed numerous homes in San Miguel de Allende, Mexico, where he and Margaret have a second home.
John is current with all the new ADA (Americans with Disabilities Act) requirements and enjoys creating handsome accessible modifications for homes and offices.
Margaret Larcade
Margaret Larcade's first interior design job was in New York City, working in an architectural and store planning firm on large department stores and small boutiques. She was responsible for every finish material and color, wallpaper, furniture, and fabric used in these projects, learning to work with multiple contractors. She also immersed herself in the furniture and textile houses, caressing exquisite materials and sitting on almost every mid-century modern furniture piece.
She studied interior design at Syracuse University, and upon graduation, she went to New York City, where she studied at the New York School of Interior Design. She furthered her skills with a year off by immersing herself in the American Craft Movement, studying ceramics and metals. She met John at Oppenheimer and Brady Architects, where she was the interior designer and was assigned to several of his projects. They married and moved first to Houston, then to San Antonio, where Margaret practiced interior design working on projects with John and his two partners, Mike Lance and Ron Bechtol. In the last six years, she has added color consulting to her resume. Some of her exterior color work can be seen in the historic Monte Vista area and Alamo Heights in San Antonio.
Margaret took time off to raise a family and, along with John, has two adult children. Their son was born with disabilities, which led to co-founding The Parent Information Exchange for Children with Special Needs and spending many years on disability issues. Now with adult children, she has returned full-time to her passion for art, design, color, and folk arts and crafts from Scandinavia to South America. Her Spanish is good enough to mix colors in Spanish-speaking countries, and she loves to work in San Miguel de Allende, combining colonial and contemporary traditions.